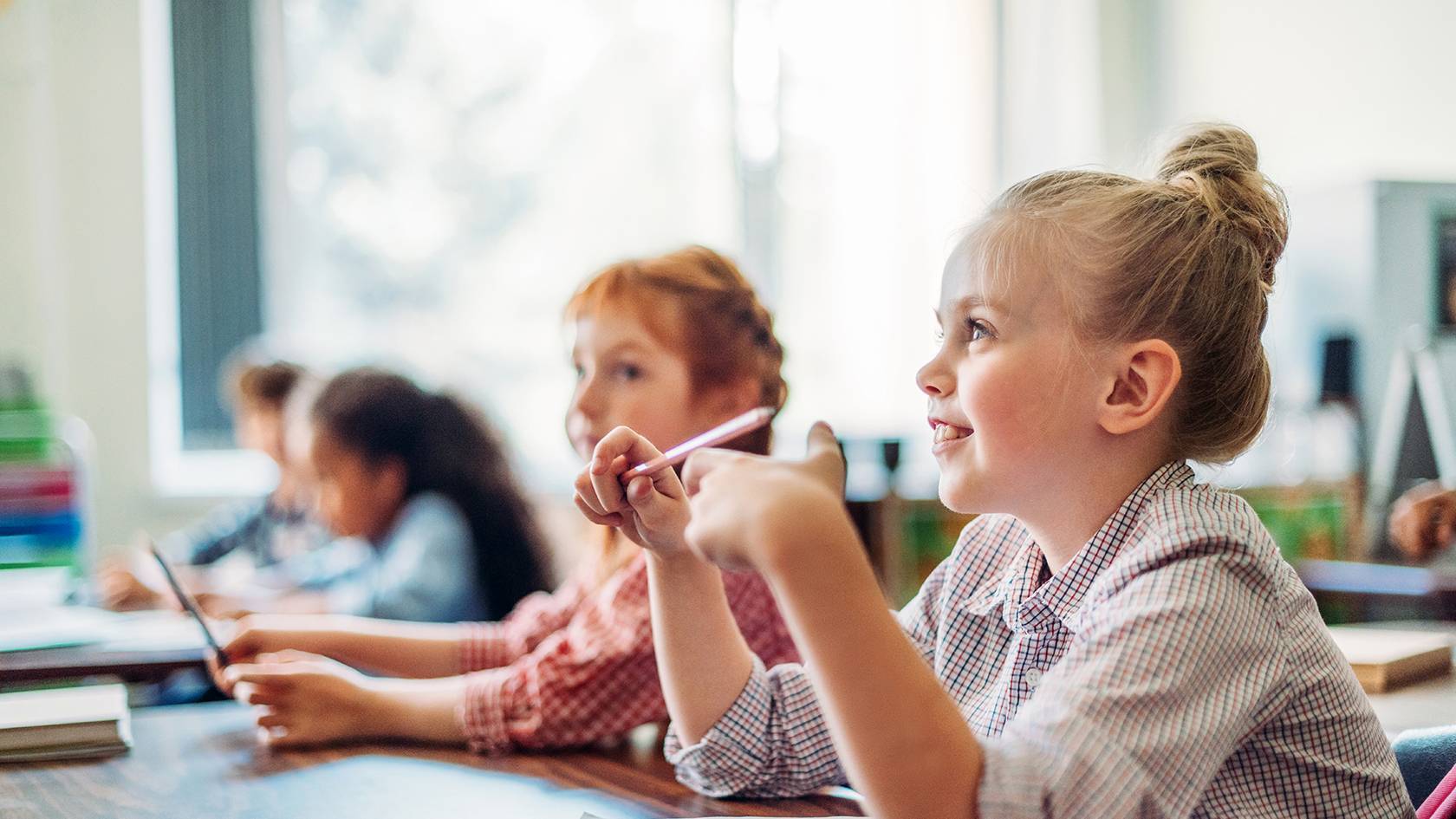 Lighting the Learning Environment
Lighting and ergonomics are central to making a learning environment that is suited to everyone – from the very youngest at preschool to teachers and older students studying evening courses at university. A well-planned learning environment increases a student's possibility of taking part in their education.
At Eagle Lighting, we help deliver carefully-designed educational facilities that are sustainable, dynamic and efficient – key ingredients in attracting students, staff and partners in a highly-competitive global education market.
Our range of energy-efficient luminaires supports optimum conditions for everyone in education settings, whether that's staff working at peak performance or students who require a stimulating learning environment.
With expert knowledge, a deep global network and a commitment to R&D, we offer the reliability, customisation and responsiveness you need today, with the insight, knowledge and engineering capabilities to adapt to future challenges.
Designing Sustainable Learning Environments
According to Malin Valsö, Psychologist/School Developer, it is difficult to learn communication and cooperation in excessively large and unclear environments. A vague environment gives no sense of security, and due to all the distractions, it can be difficult to concentrate. The interruptions can be considered dangerous because it leads to 'multi-tasking', which tires the brain and impairs our cognitive ability. It places high demands on students not to lose focus.
Learning new things is far more demanding than going to work where you know what you are expected to do. Thinking new is hard work, and students do it all day. Therefore, they must economise their brain capacity and energy. It is our job to design environments that help students think about the right things: To think about their task when they are working on it - and not think about schoolwork when they have a break. This must be very clear in the physical learning environment.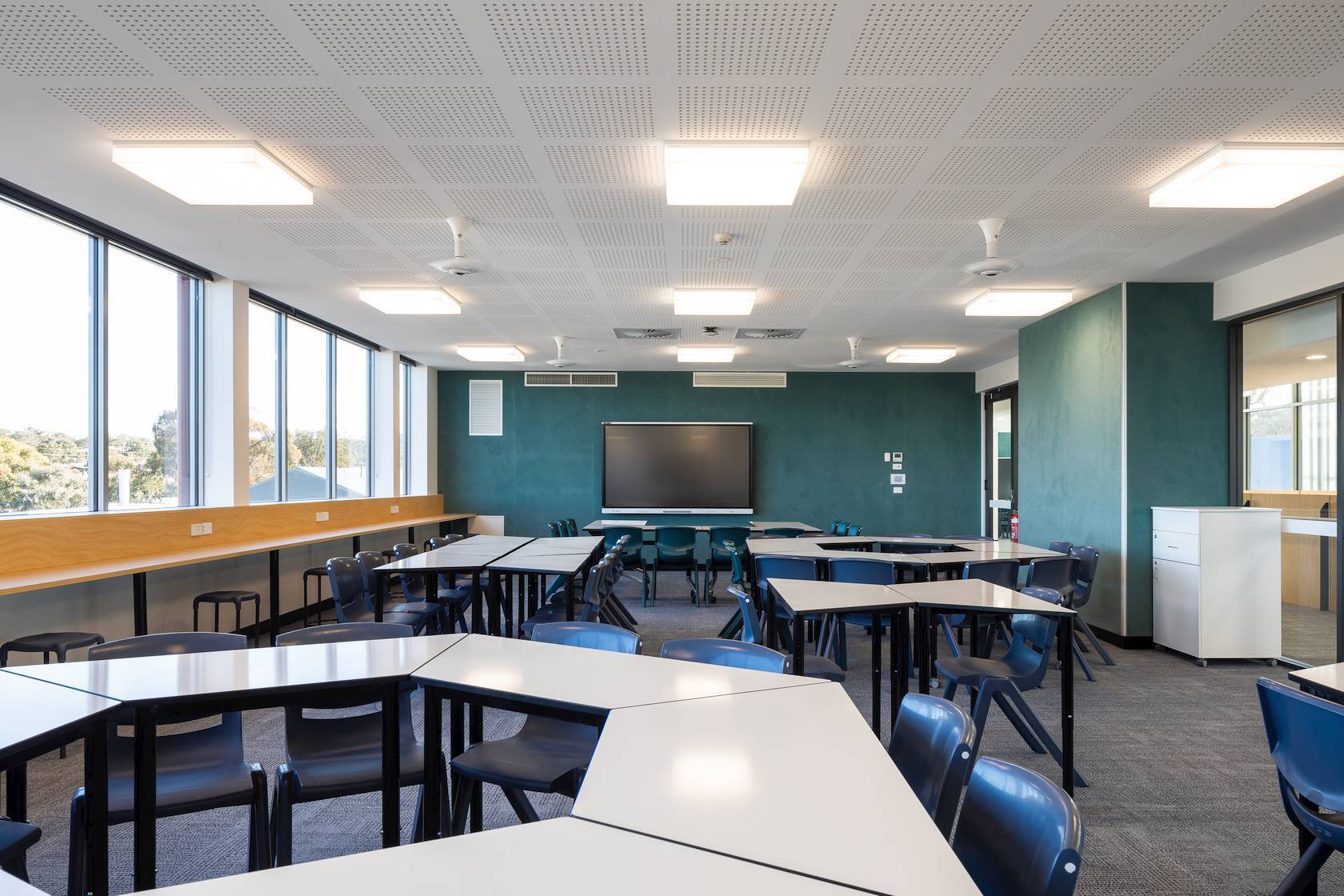 Adapted Environment

Adapting classroom elements for teaching is an important consideration. This is particularly important for younger students that have the same classroom for school and recreational work, where other types of lighting and furnishing might be required.
The physical environment can easily signal different things if we adjust it, for example dimming the lights at closing time at a restaurant. Lighting is the simplest tool to quickly signal that we are now changing tasks. Being able to dim, control and change the colour temperature of the lighting can enhance and facilitate learning.
A School for Everyone

Current research shows that those who suffer most badly, for example, from poor lighting, acoustics, room design, unthoughtful furnishing, or ventilation, are the already struggling students. However, if we make design changes based on the knowledge of our learning processes, they are also the group it will have the most effect on.
If we create well-planned physical learning environments, we increase equality and give more students good chances to succeed with their education, says Malin.
What a good physical learning environment can look like:
Minimal distractions create work peace and increase concentration.
No visual noise.
No glass doors/walls or windows to other rooms or to an outdoor environment with much movement.
Good acoustics, so all students can hear what the teacher says.
Good ventilation and class sizes match the room's ventilation capacity.
Good general lighting with LED including dimmers that adjust both brightness and colour temperature.
Clearly defined learning environments and clear group affiliation.
Think about calm and tranquillity in colour choices and decoration; choose a single colour and avoid patterns.
Space for movement breaks in the classroom.
Featured education lighting luminaires include:
We appreciate that every project is unique. 
Lighting solutions for key spaces in a typical education facility - whether that be a new build, refurbishment, or refresh, include...
The Classroom
Pictured above, Educo.
Classrooms are the centre of any learning establishment and the most commonly occupied space. From the ages of 5-18, students spend around 27,000 hours studying at school.

There are many different activities undertaken in these learning areas and regardless of the task or age of the user, lighting must accommodate the diversity.
While the classroom is a dynamic place, where many teaching activities are carried out, it is also a place of tranquillity and security that promotes learning.
Flexible and open learning spaces
The students of tomorrow will approach education in ways that have never existed before, in environments that break the mould of the traditional classroom.
To plan the learning environments of the future, we need to familiarise ourselves with what tomorrow's users need. Today's students have completely new reference frameworks, knowledge and starting points to take into account – experiences that never existed before.
A multiple-use space where stimulating colours and good lighting design are essential, regardless of the time of day.
The increase of flexible learning and modifiable spaces within educational facilities demands a variety of lighting aesthetics and installation options.
Our wide range of luminaires, including Educo Vitality, give you the creative freedom needed to enhance your education project - delivering easy-to-control, energy-efficient and sustainable solutions.
Science Lab
Whether you require specialist luminaires where protection against contamination is required or a general lighting solution that provides high efficacy, exceptional lifetime and low glare values, we have a range of luminaires to meet the requirements of any science lab.
Car Parks, Pathways and Façade
Outdoor environments must balance security, safety and energy efficiency while creating attractive environments that enhance both ambience and architecture.

Our range of energy-efficient outdoor lighting solutions does just that - meeting code compliance, functionality, durability, safety, and security while creating great places for people.
Our low-maintenance, reliable solutions include luminaires for building façades, roofs, parking and public spaces.
Eagle Lighting's access to global experts and products from Designplan, Simes, LED Linear and Fagerhult deliver a combined capability for outdoor lighting that is unmatched in Australia.
Lighting control for learning environments
Quick installation is always appreciated, especially on renovation projects where time is at a premium and operational disturbances must be kept to a minimum. Traditional renovations with rewiring mean major costs and longer construction times. 
When renovating learning environments with our Organic Response luminaires, you can reuse existing wiring and save valuable time. Just install and get going straight away – a simple plug & play system. Communication between the luminaires is wireless.
With our smart lighting control system Organic Response, luminaires only light when needed – which is both good for the environment as well as being cost-effective. We have equipped the luminaires with a sensor that detects presence and absence. 
The lighting control sensors are powered through the luminaire and create a smart and energy-efficient lighting control system directly upon installation. When the sensors detect a presence, the lighting will turn on gradually and dim again in case of absence.
Our sensors detect heat in motion, which means that even if students sit still, the system detects that there are people in the room – and does not turn off the lights by mistake. In addition, with a sensor in each luminaire, the entire classroom is covered and the lighting remains on, no matter where in the room the students sit.
Another feature is daylight regulation, which lowers the lighting level on days when the sun illuminates the classroom. Lastly, our smart system turns off when school is over for the day. Even if the last one out of the classroom forgets to turn off the lights.


Let's chat!
We look forward to discussing with you how Eagle Lighting can provide lighting solutions for your education project.
Project Focus: Oxford Falls Grammar
Oxford Falls Grammar School is a co-educational private school for children from Kindergarten through to Year 12. With 1100 students, the expansion to the Senior School Independent Learning and Resources Centre (Block K) provides the school with eight additional General Purpose Learning Areas over two stories, a senior private study area, a private study room, and amenities along with new undercover drop off and pick-up zone.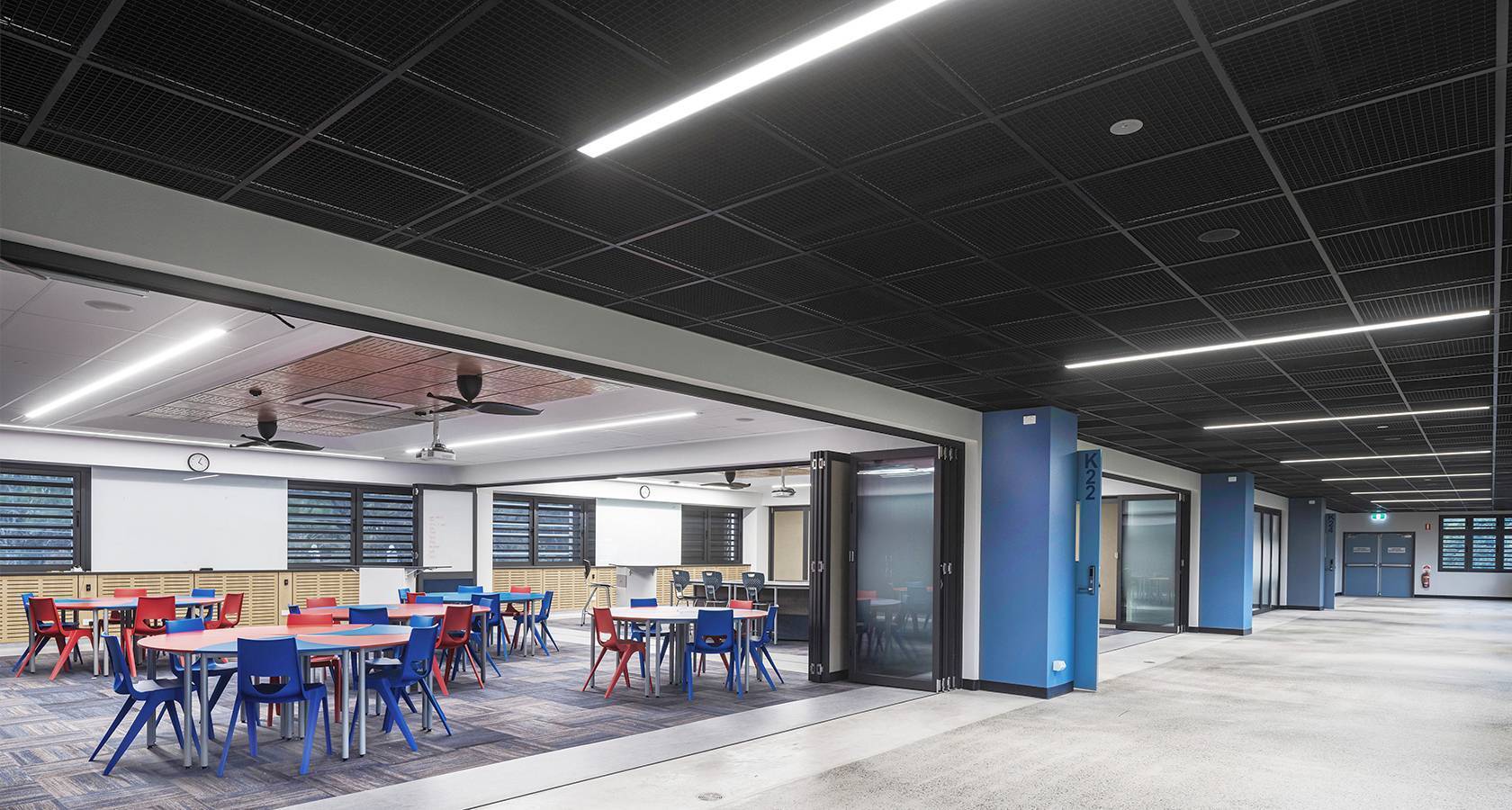 Project Focus: South Melbourne Park Primary School
South Melbourne Park Primary School is located at the former Albert Park Signal Depot, 'the last remaining example of the Inter-War-style employed for Defence facilities in Melbourne during the 1930s'.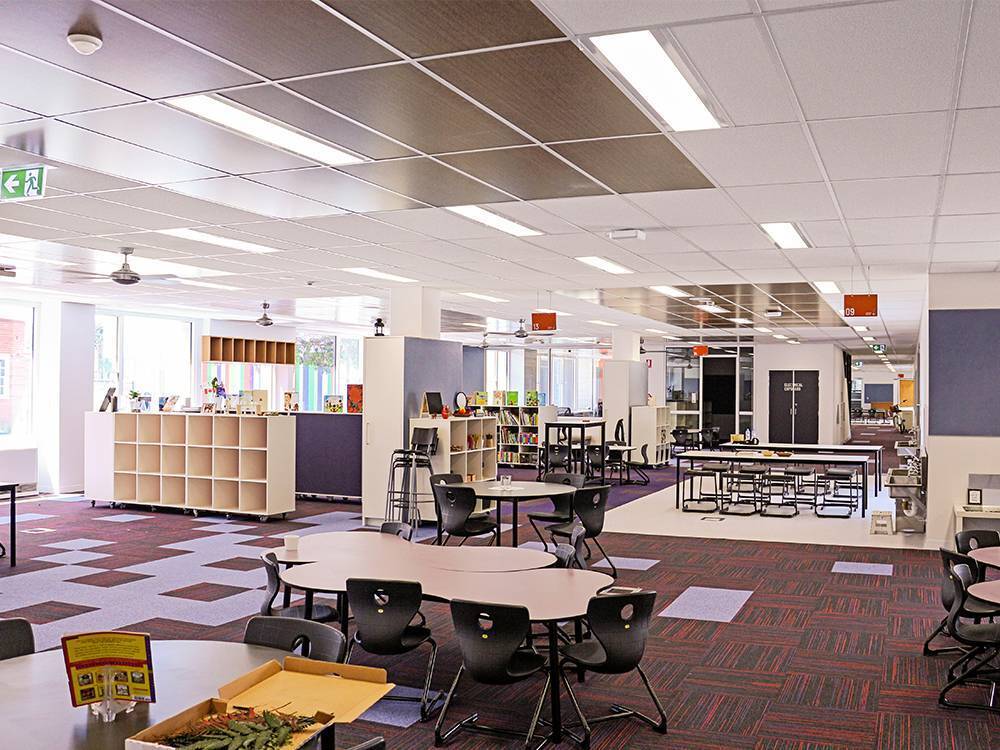 Project Focus: Prahran High School
Prahran High School is one of three vertical colleges in Victoria. Spanning four storeys, the School is squeezed onto land which previously housed Swinburne University, Windsor.

Developed around a central light-filled void, the school contains a library and performing arts facilities on the ground floor; science, visual arts and technology facilities spread across levels one to three; a gymnasium on level three; and a play area and rooftop garden on level four.