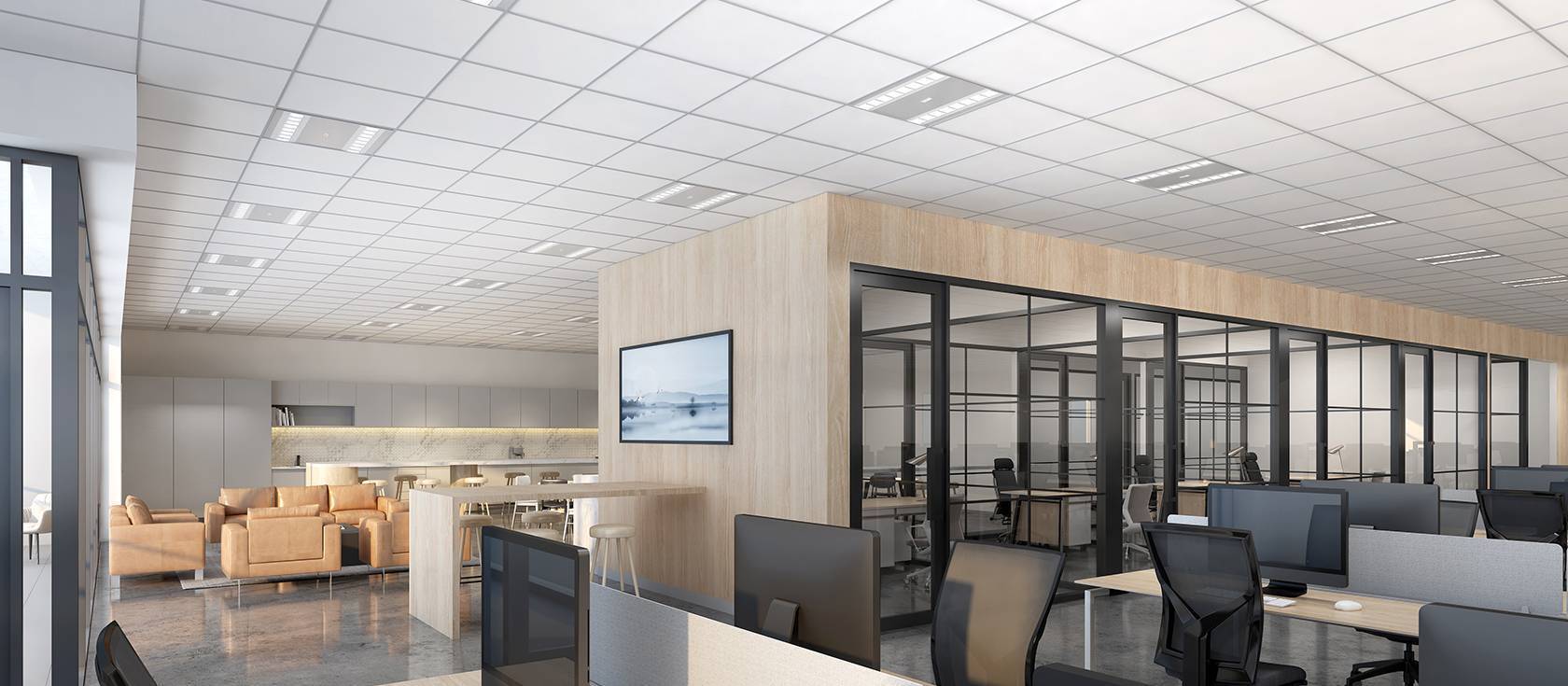 Office Lighting
Brighter spaces for more productive employees
Every office has different lighting needs. Our collaborative approach helps identify those needs and deliver a commercial lighting solution that ensures satisfaction for all stakeholders.
The first step is getting to know your business. Our team considers lighting design, luminaire performance, controls, building standards and the people who will use the space every day. 
Our objective is to create sustainable spaces that maximise health, wellness and performance. To create an environment that helps people shine.

Exposed services/ integrated fit out lighting
With integrated tenancy fit outs, we assist our clients in reimagining their physical space - opening up the possibility to incorporate a broader range of decorative and architectural lighting products, transforming the visual interest and feeling of an office workspace.
Businesses need to pivot to deliver enhanced dynamic spaces that boost productivity and wellbeing whilst attracting employees back to the physical office. To deliver this experience, we carefully consider various lighting factors, including light level intensities, distribution, uniformity & contrast ratio, glare control, indirect light, vertical illumination, linear lines, colour temperatures and intuitive lighting control technology.
Thanks to our lighting knowledge and product range, we deliver office lighting that creates visually attractive environments that stimulate alertness, collaboration and wellbeing.
Open plan office lighting
The open plan office now demands far greater flexibility of its lighting. Staff want dynamic human-centric office spaces.
By carefully selecting our evolved office lighting product options, businesses can easily create flexible, activated and stimulating environments instead of the traditional, uninspiring static lighting. 
As office workspace functionality and activity priorities evolve, flexible and adaptable lighting has a recognised benefit. Our product engineering and development teams have focused on this need, providing luminaires with comfortable glare-free, high-quality light.
Individual office/ meeting room lighting
There is an increasing trend for more individual offices and informal meeting spaces; increasing areas for concentrated work, close collaboration and video conferencing. This strategy also provides options that allow for individual employee neuro-diversities.

No longer are occupants of the cellular office confined to a one size fits all lighting solution thanks to advances in commercial LED lighting and advanced control technology such as Organic Response. Adaptable and individual lighting profiles supporting a person's preference and wellbeing requirements are now available for all to access.
Boardroom lighting
The requirement for the contemporary boardroom is to operate as a multi-functional space.
Meetings and conferences can be very creative and flexible - Communication, collaboration, tech connection, video conferencing and casual break-out brainstorming are all on the agenda for the boardroom of the modern office. In these contexts, it is vital to be able to adapt the lighting to the activity. 
Adaptability, control, personalisation, acoustic intervention, and lighting scenes are necessary components for a modern boardroom lighting solution.
Resources, News & Projects
Below are a selection of our resources, luminaires and past office lighting projects.
For news and educational resources subscribe to our newsletter.