Silencio: Arin
Harmonising Light & Sound
An optimally lit and acoustically comfortable environment enhances concentration, promotes social interaction, and produces a feeling of well-being.
Introducing Arin - a suspended pendant that supports visual and acoustic optimisation.
Made in Australia from environmentally friendly materials, Arin is a stylish, sound absorbing high-performance luminaire designed to enhance commercial and education environments.
Download: Arin brochure
CREATING HARMONIOUS SPACES
Acoustic conditions profoundly impact human performance in the workplace.
Due to varying ambient noise levels, office and study spaces can be distracting when trying to focus, collaborate
or hold a virtual meeting.
By utilising sound absorbing luminaires to help maintain a comfortable ambient noise level, it is possible to increase
focus, lower stress levels and improve overall well-being.
Arin is engineered and has been scientifically tested by the CSIRO to confirm that per each luminaire reverberated noise and echo are enhanced to deliver occupants the acoustic comfort that they deserve. This is especially the case in the all-important sound range relevant to communication (125-2000 Hz). At these frequencies, the noise absorption benefits of Arin are at peak performance.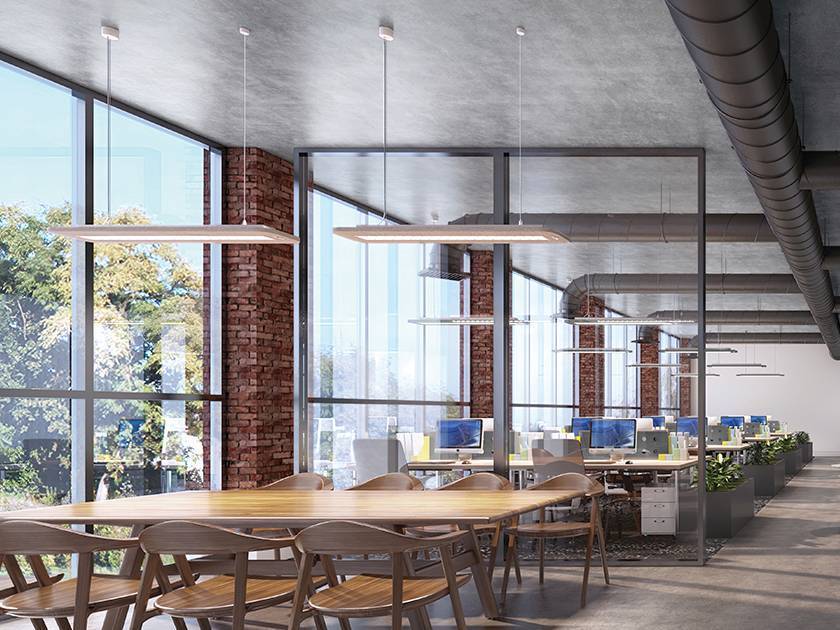 PREMIUM ILLUMINATION
Arin provides premium quality, low glare illumination, with high colour rendering accuracy CRI90+ and options for colour changing and personalised lighting scenes.

A central array of high specification ABS injection moulded chambers and beam shaping microstructured film combines to provide optimum luminescence.
The product exceeds BCA 2019/J6 energy requirements via optimised beam distribution.
The combination of LED chips with the right spectral distribution and an optimum beam distribution achieves ideal vertical illuminance levels with high Circadian Stimulus (CS) and Circadian Lighting (Cla) values.

Quality, low-glare and comfortable lighting is vital to human wellbeing and productivity, fundamentally influencing us visually, biologically and emotionally.
SUSTAINABLE, ETHICAL & MADE LOCALLY
With a significant component of the body made from environmentally friendly sound absorbing material, Arin is highly durable, providing long-term luminaire stability and performance whilst delivering excellent acoustic performance.
Ethically sourced and manufactured in Melbourne
Circularity and zero-carbon manufacturing - We maximise reuse and resource efficiency in the design of our luminaires

Carbon neutral body - The Cube* fabric used in Arin is manufactured locally by Autex from >60% recycled material.
Body made from 100% polyester fibre (PET)

Low VOC and CDPH compliant - <0.092mg/m3 (7 days)

EPD – compliant with ISO 14025 and ISO 15804

Declare – Red List free (third-party verified)

ISO 14001 Certified Environmental Management

Health Product Declaration
*Trademark Autex
COLOUR & CREATIVITY
Creative freedom abounds with Arin thanks to the acoustic panel being customisable in both shape and colour.
Enhance your interior design with Arin by selecting from a diverse palette of refreshing, contemporary colours to suit your unique interior design.
N.B. MOQ apply to non-standard colours. Colour choices will continuously be updated based on trends - please refer to the Arin product page for the current colours available or visit Autex.
EXPERIENCE THE HARMONY
By combining all of the elements that we know to have profoundly positive benefits on people - colour, light, sound-absorption and personalisation - with Arin, you can create spaces and experiences that positively impact the environment and support people's productivity in a variety of office or education spaces.
Subscribe to our newsletter.