Project
412 St Kilda road
Location
Victoria, Australia
Space
Interior fit out across 8 separate suites over 3 floors.
Working closely with the Property Services team at McCormacks, Eagle Lighting have successfully designed and delivered an office lighting solution which showcases our local product offering whilst ensuring client expectations and design compliancy were met across three levels of 412 St Kilda Rd.
Our locally manufactured Enviro Evoline 300 & Pleiad G4 downlights blended seamlessly into the space whilst effectively meeting project needs including high-quality performance, exceptional visual comfort, and short lead times, giving the client confidence and piece-of-mind in selecting Eagle Lighting.

Evoline is a hugely popular Eagle Lighting product and has been designed to meet the demanding requirements for Australialasian offices. In particular, it has excellent vertical illuminance which increases overall light levels onto vertical surfaces providing an excellent ambience and creating a healthier, visually comfortable environment for staff.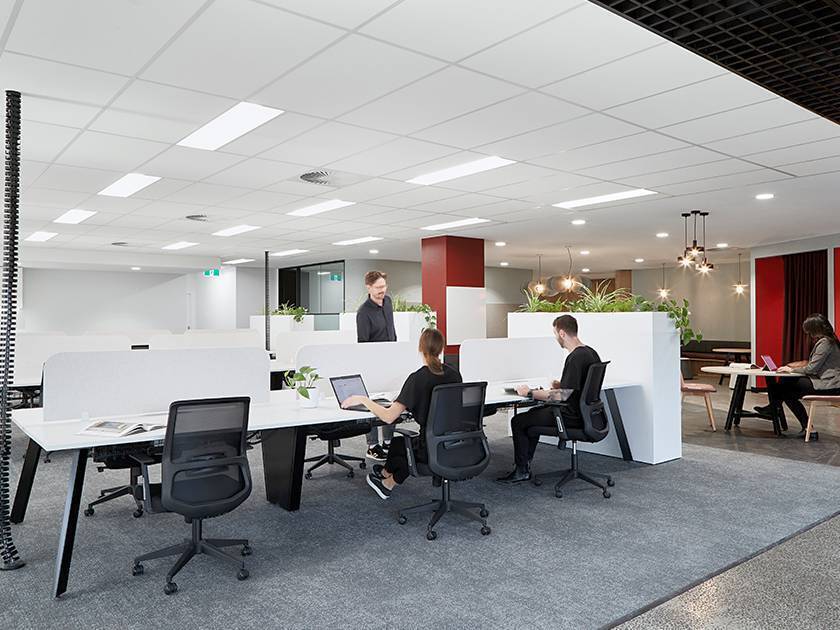 The lighting design intent incorporated the Pleiad commercial recessed downlight, a highly efficient downlight with a lens-based optical system that provides an extremely soft luminance transition between the reflector and ceiling which results in a pleasant glare-free environment.
With sustainability and environment always a key consideration Pleiad has an impressive 100,000-hour lifetime rating and delivers in excess of 140 lumens per watt of electricity; ultimately translating into an excellent choice not only in terms of the environment but also for the ongoing running costs and efficiency of the lighting solution.
Adapting to unique room spaces, our design team were able to implement the design criteria set out by the client and successfully deliver a compliant lighting solution.
Meeting BCA J6 and ASNZ1680 recommendations including UGR, this guaranteed excellent building efficiency whilst producing an exceptional working environment for end-users.
Resources, News & Projects
Below are a selection of our resources, luminaires and past office lighting projects.
Subscribe to our newsletter