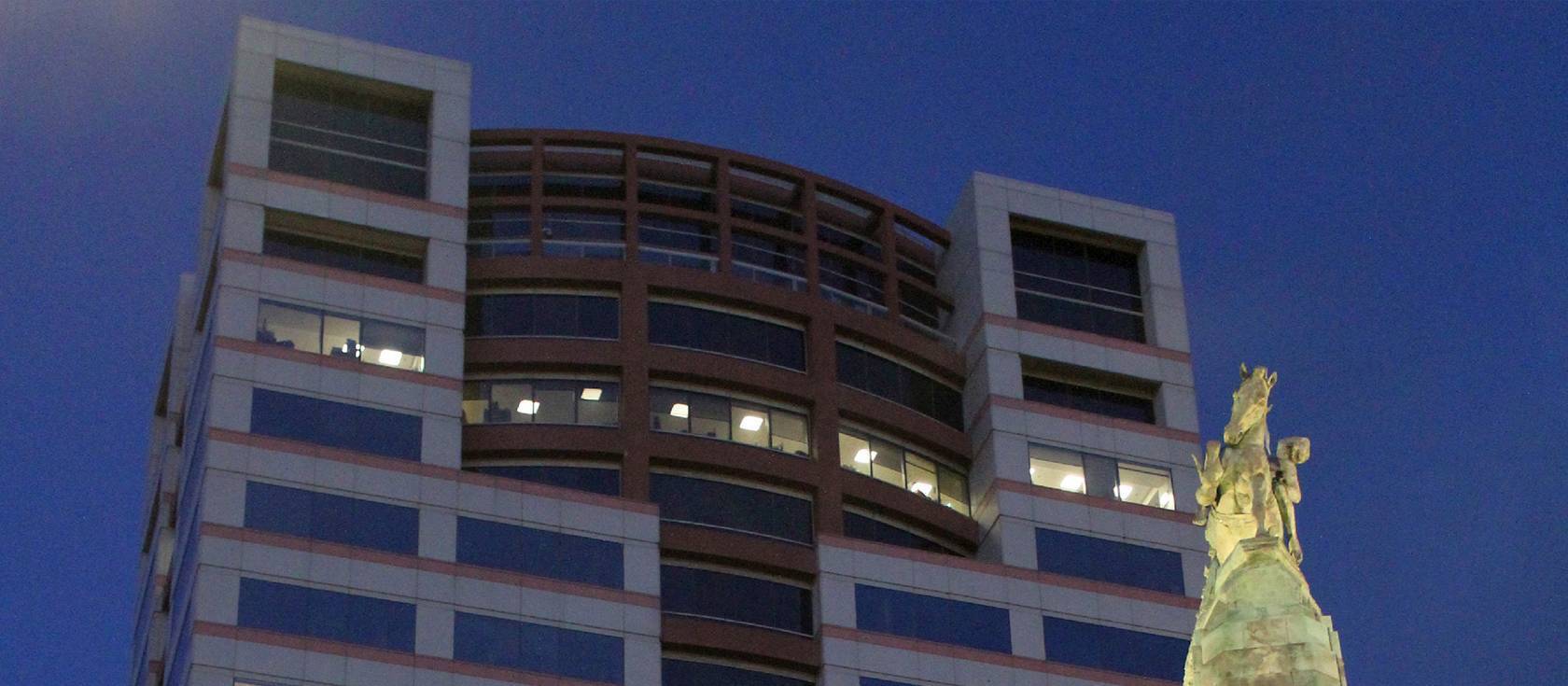 Bowen House, Wellington, NZ
Winner of a Lighting Design Commendation Award for Energy Efficiency at the IESANZ Awards 2019, Bowen House is a 22-storey office building in Wellington, New Zealand.
Leased by the Parliamentary Service for government staff, the Bowen House upgrade is the first full high-rise building in New Zealand to install Organic Response lighting controls.  
The combined lighting and controls solution provides the New Zealand government with one of the country's most cutting edge lighting systems.
OVERCOMING LIMITATIONS
Updating the inefficient and high maintenance lighting, which was installed in 1990, presented a number of limitations.
The new lighting design would need to be a one-to-one luminaire replacement and, while the upgrade called for a simple and programmable lighting controls solution, the building offered no wiring for a control system.
The new lighting solution would also need to be able to adapt to and be easily adjusted by the ministerial staff who worked irregular hours.
DESIGN CRITERIA
Bowen House required:
A full upgrade of the existing luminaires and lighting control
The upgrade to be completed out of hours and office to remain fully functional
A system that was simple to operate and could be programmed by onsite facility managers.
A solution that worked independent of any network connection.
A solution that met a set capital budget, with cost payback of 5 years required.
SELECTION CRITERIA
Several luminaires and lighting control systems were evaluated against the criteria of:
Aesthetics
Performance
Initial and total cost
Ease of programming
SOLUTION
The best match for the design and selection criteria was Eagle Lightings AureLED coupled with the advanced lighting controls of Organic Response by OR Technologies.
ENERGY EFFECTIVENESS
The luminaries have been trimmed to 60% in transverse areas and 70-75% in office areas to provide a uniform environment and account for individual preferences.
The combined lighting/controls solution will provide 86% energy savings and a 90% reduction in maintenance costs.
Simple Life Cycle Carbon Calculation shows a reduction in emissions of 939 tons of CO2 over 10 years.
BENEFITS
The system, being completely plug and play, allowed for ease of installation and setup with minimal disturbance to staff.
By upgrading to a 30W LED luminaire, with low glare and good uniformity, the illumination of all surfaces was greatly increased. With the ambient light levels on the ceiling, walls and floor increased, the buildings occupants perceive the space to be brighter - resulting in a better working environment.
Improved lighting also provides a significant positive effect to occupants - visually, biologically and emotionally.  
Having occupancy sensors integrated into each luminaire increases the sensor density. This sensor density ensures that the lighting is more responsive to buildings occupants as Organic Response acts like a school of fish where every individual node communicates with its nearest neighbours.
As an example, Organic Response offers a 'personality' setting where the mesh network determines the dimming value of each luminaire. This setting reduces light levels concentrically away from the Organic Response sensor that is activated, depending on movement and occupancy levels. The more an occupant/s move within the floorplate, the more luminaires would come up to max light levels.
KEY POINTS 
The ORT controls integrated into the luminaires afforded a fast and easy upgrade, requiring no new or extra cabling.
Adding a robust and proven ORT lighting control solution allowed the floors to be more efficient as only areas there were occupied had lights turned on.
The ORT app afforded the client's FM team to deploy simple and intuitive lighting control strategy's on the floors, without the need for complex DALI addressing or specialist system integrators.
The ELA light fittings powered by ORT smart sensors offer a robust mesh network provision should the client want to tap into the IoT layer of smart buildings.
Account Manager: Stephen Brooke, Fagerhult (New Zealand)
Business Development Manager (Controls): Robert Ryczkowski, Eagle lighting Australia
Consultant:  Stephenson and Turner (Glen Wright, Tim Edmonds and Barthelemy Rives)
Installation by Electrical Contractor:  Brien Electrical (Mark Brosnahan)