Organic Response Control Resources
Brochure: Choosing a Lighting Control Solution


As the technology of all traditional building systems has evolved, so too has lighting control.
Traditional cabled systems are being rapidly replaced by more intelligent and responsive wireless systems.
The purpose of this document is to compare the traditional DALI cabled lighting control systems, with the intelligent wireless solution of Organic Response.
Whether it's personalised lighting for an office space, different light levels for a classroom or creating a dynamic retail space through presence detectors, Eagle Lighting can meet your controls and connectivity requirements.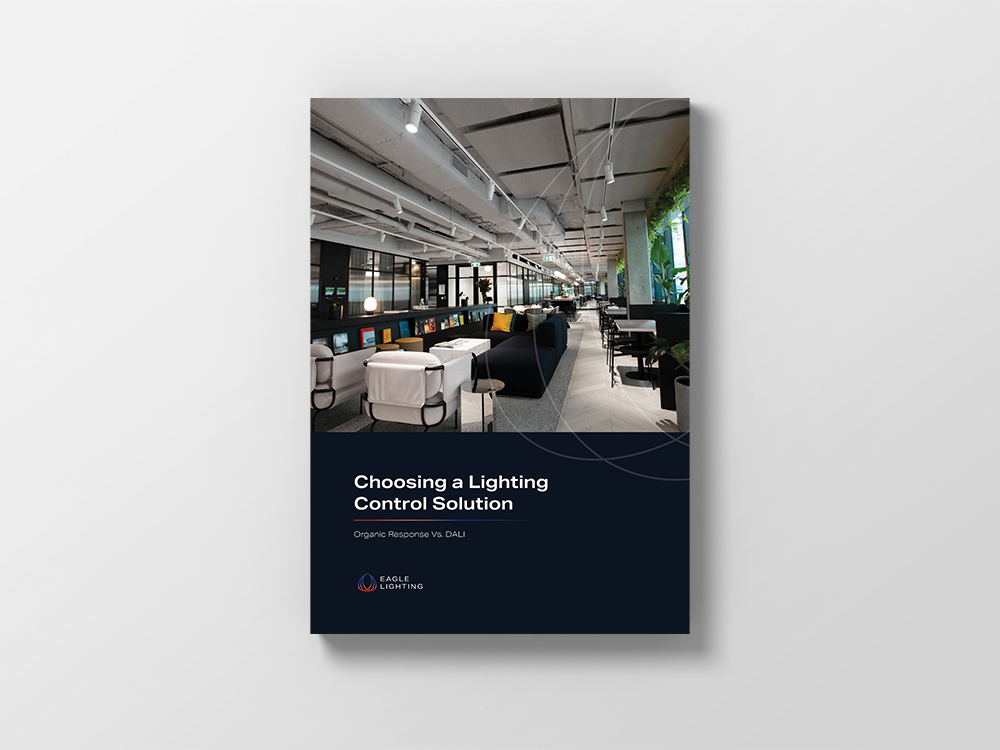 Brochures, datasheets & projects
Organic Response Video Series
Organic Response: Our intelligent lighting solution

An intuitive solution for energy-efficient spaces.
Organic Response is a completely wireless "plug & play" lighting control system that allows each individual luminaire to make lighting decisions based on the presence of occupants in its immediate vicinity, ambient light levels, and information it receives from its neighbouring luminaires.
Click on the video to the right to expand.

Introducing Organic Response Lighting Control

Organic Response is an intelligent wireless peer to peer lighting control solution that is Scalable, intuitive and easy to configure.
Organic Response is proven wireless technology, not tethered to restrictions of cabling It's easy to configure by an electrician or facility manager and boasts a low cost of maintenance.
Organic Response adds value beyond lighting and control, opening your spaces up to the world of connectivity.
Install today, ready for tomorrow.

Click on the video to the left to expand.

Designing and Installing Organic Response Lighting Controls

Start the process with a lighting design then adopt a functional control strategy as advised by the Electrical Engineer or Lighting Designer.

Once we have the luminaire layout, the next step is working out where to place sensor nodes.
Click on the video to the right to expand.

Getting Site Ready for Organic Response Configuration

In this short video, we present the easy process to get your Organic Response enabled luminaires site ready.
Click on the video to the left to expand.

Organic Response Lighting Control Configuration

Organic Response Control Configuration
- The basics
- Setting zones
- Setting maximum light levels
- Setting a personality
Click on the video to the right to expand.

Organic Response Setting Scenes & Pre-sets

A step-by-step process for setting scenes and pre-sets for Organic Response enabled luminaires.

Click on the video to the left to expand and learn more.

Installing an Enocean Wall Switch

Enocean Wall Switches are Bluetooth Low Energy -Radio Frequency (BLE RF) technology.
Basic Requirements :
Need to ensure that the OR nodes installed in your project comprise a firmware version of 184 or Higher.

Your phone must have NFC enabled ( Near Field Communications ) like used for Paywave Pass etc.

You have already set Zones and Scenes at your Nodes.
We are now simply making wireless associations with the Enocean Switches to the nodes in their prescribed zone/room/area/locations.

Click on the video to the right to expand.

Subscribe to our newsletter for news and updates on controls & more